An unexpected uptick in construction sector growth is boosting Pound exchange rates. GBP EUR and GBP USD are currently advancing, though downside risks remain.
Pound Exchange Rates advance – GBP EUR, GBP USD boosted by construction PMI
Euro (EUR) weak despite jobs data – German unemployment falls by -13,000
Election fears pressure US Dollar (USD) lower – Panicked investors turn to bonds
GBP EUR, GBP USD forecast – Federal Reserve to strike hawkish tone this evening?
The Euro (EUR) is having a mixed reaction to the latest positive German unemployment figures, as developments on the bond markets threaten to complicate life for the European Central Bank (ECB). Meanwhile, the US Dollar (USD) is falling on the back of market fears over the possibility Donald Trump could win the US election.
US Dollar Unmoved by Non-Farm Payrolls; Large Revision to Previous Figure Counters Downside Surprise
UPDATE, 13.03, 04/11/2016; US non-farm payrolls may have disappointed forecasts, but a sharp upwards revision for the previous figure has meant that, overall, the US labour market data remains strong. Payrolls printed at 161k, which was -14k below forecasts, but September's figures were revised up by 35k. The news hasn't changed the fortunes of the US Dollar, however, as investors remain too preoccupied with the approaching US election. In fact, Fed hike bets for December have fallen to 67% – from 80% a few days ago – as markets worry that Trump may win the election and therefore deter the Fed from hiking.
Pound Still Cheered by High Court Judgement; US Payrolls Approach Softens EUR, USD
UPDATE, 09.40, 04/11/2016; The Pound has continued to remain in positive territory today after yesterday's High Court ruling, although GBP EUR and GBP USD are only making moderate gains. Meanwhile, the Euro and US Dollar are both weak as traders await today's vital US non-farm payrolls report.
Breaking: Pound Surges as High Court Rules Parliament Must Get Article 50 Vote
UPDATE, 16.56, 03/11/2016; The UK's High Court has just upheld a challenge to the government's right to trigger Article 50 without the approval of Parliament. While the Government has already expressed its intention to appeal, GBP EUR and GBP USD have advanced over 1.1% on market hopes that the damage to Brexit could be mitigated by MPs. There is even a slim possibility that the exit could be blocked completely, with the UK remaining in the union; this is unlikely however, with Remainer MPs including Hilary Benn stating that they will not vote against triggering Article 50.
Regardless of whether or not Parliament could block Brexit, it is likely to need to vote on the matter will delay Theresa May's plan to trigger Article 50 by the end of March next year at the latest.
Will Pound Remain Strong after High Court Rules on Article 50 Brexit Trigger?
UPDATE, 08.58, 03/11/2016; The High Court is set to rule on whether or not the government can legally trigger Article 50 of the Lisbon Treaty without seeking Parliamentary approval. The decision is likely to be highly controversial either way. Should the court rule that the government can press ahead without the backing of MPs, the Pound will likely plummet. A ruling to uphold the challenge could cause the Pound to soar as investors, hoping that Brexit can still be blocked, pile back into Sterling.
Pound Goes Bullish as Markets Anticipate BoE Rate Freeze
UPDATE, 14.15, 02/11/2016; The latest UK construction PMI continues to boost Pound exchange rates today, with GBP EUR gains in the region of 0.3% and GBP USD advancing over 0.7%. Markets are confident that the latest data, showing both economic strength and indicators that inflation is set to greatly overshoot target levels, will have convinced the BoE not to loosen stimulus measures further tomorrow.
Pound Euro, Pound US Dollar Exchange Rates Positive as Construction Industry Accelerates
Markit's latest UK construction PMI has supported Pound exchange rates today after unexpectedly rising. The index had been predicted to weaken to 51.8, but instead climbed from 52.3 to 52.6. However, the initial boost provided by the surprise uptick could be short-lived. As was the case with yesterday's manufacturing PMI, the construction survey revealed that input prices were rising sharply.
According to IHS Markit Senior Economist Tim Moore;
'Subdued new order intakes contributed to a fall in construction sector business confidence for the first time since July. At the same time, a sharp pace of input price inflation added to construction firms' anxieties about the year-ahead business outlook, with higher costs overwhelmingly linked to supplier price hikes in response to the weak Pound.'
Concerns of surging UK inflation kept Pound exchange rates weak yesterday, so the fact the construction index is also pointing to higher input prices is likely to add to the downside pressures on GBP EUR and GBP USD exchange rates.
Euro Weakening despite Strong Data; Falling Bond Yields Cause Concerns for ECB QE Programme
Eurozone data for October has largely bettered forecasts today. Markit manufacturing PMIs for Spain, France and the Eurozone as a whole revealed a stronger pace of growth than analysts had expected, while the Italian and German measures only edged lower by -0.1 point each. German unemployment figures were greatly improved upon forecasts, with a -13k drop in the number of people out of employment enough to take the rate of unemployment down from 6.1% to 6%.
However, the positive impact of the data has been lessened by the latest developments on the bond market. The current US election panic is causing a rout on global stock markets, which has seen investors turn to bonds as a secure place to put their cash. This is boosting bond prices in the Eurozone, causing yields to fall. Rising bond prices is problematic for the European Central Bank (ECB), which is already struggling to sustain its enormous quantitative easing programme.
The ECB has rules on which bonds are eligible, yet it is running out of qualifying assets to purchase. Should the flock to bonds continue to push yields lower, more bonds will become ineligible for the ECB to purchase, further narrowing the supply and making it even more difficult to maintain QE at the current rate.
US Dollar Pound, US Dollar Euro Slides as Markets Fear Possible Trump Election Victory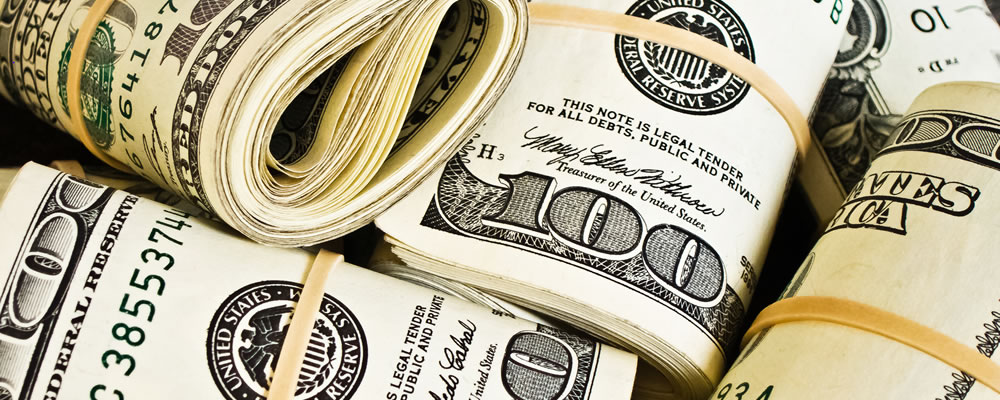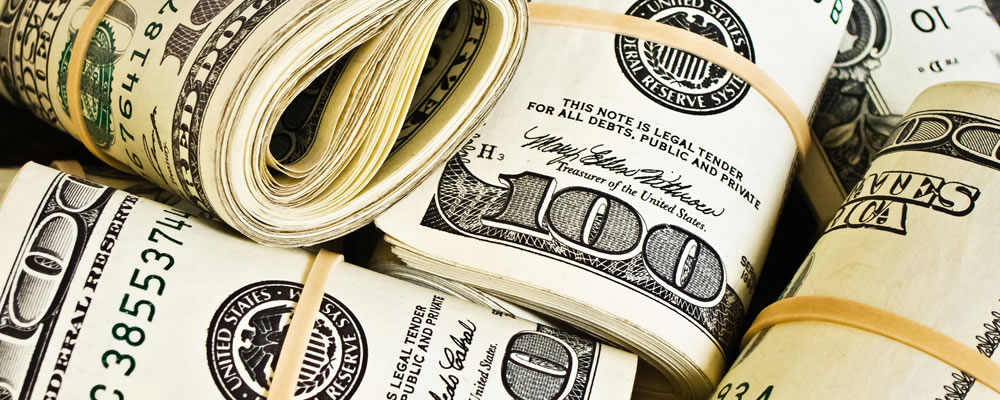 The damage done to Hillary Clinton's presidential campaign by the FBI's reopening of an investigation into her use of a private email server during her time as Secretary of State is worrying markets today. A recent poll showing that Republican Donald Trump, seen trailing just a few days prior, has now edged into the lead has sparked market panic. Investors across the globe are selling stocks and turning to bonds, with even the safe-haven US Dollar seen as too risky a bet ahead of the election next week.
As Societe General's Kit Juckes explains;
'With less than a week to go, market opinion is coming to the conclusion that a Trump win would create too much uncertainty and is bad for risk sentiment generally.'
In the midst of all this market furore, the Federal Reserve is expected to announce its latest monetary policy decision. Markets had expected that the Fed would judge it too risky to hike interest rates during this meeting, even when everyone was confident that Clinton would take the White House. The prospect of a Trump presidency is therefore going to raise bets of a freeze even further.
Pound Euro, Pound US Dollar Exchange Rate Forecast; Will the Fed Adopt Hawkish Policy Stance?
The day's UK and Eurozone data has already been released, leaving Pound exchange rates to move in response to investor speculation, in part as traders eye the jittery state of the US markets.
A policy hold from the Federal Reserve would not come as a surprise to markets, but traders will nonetheless be paying careful attention to the language used by the Fed. Investors are hoping for a hawkish tone that would clearly signal policy is set to be tightened in December. Such an indication could help the US Dollar to recover, although with markets already pricing in odds of over 74%, expectations are already extremely high.
Pound Exchange Rates; Interbank GBP EUR, GBP USD Exchange Rates
At the time of writing the Pound Euro (GBP EUR) exchange rate was trending in the region of 1.10, while the Euro Pound (EUR GBP) was trading around 0.90.
The Pound US Dollar (GBP USD) exchange rate was trending in the region of 1.22, while the US Dollar Pound (USD GBP) exchange rate was trading around 0.81.
The Euro US Dollar (EUR USD) exchange rate was trending in the region of 1.10, while the US Dollar Euro (USD EUR) exchange rate was trading around 0.90.