Following bullish appreciation seen yesterday, Pound exchange rates have slumped today, with GBP EUR and GBP USD registering strong losses.
Latest News;
Investors take profit on strong Pound
Euro holds as finalised inflation meets estimates
US Dollar buoyant ahead of CPI data
Pound exchange rates could recover if sell-off slows
The Euro is mixed after lacklustre construction data, while the US Dollar is advancing on the prospect of positive inflation data later today.
Afternoon Update, 20th Jan; The Pound has weakened again today after Chancellor Philip Hammond hinted at the 'bonfire of regulations' and slashing corporate tax measures that had previously been suggested during the Brexit campaign during a panel at Davos today. He has indicated that the UK would walk away from the 'economic mainstream' were a trade deal with the EU not finalised during the two-year Brexit process.
Morning Update, 20th Jan; The approaching inauguration of President Trump is keeping the markets unsteady today. Pound exchange rates are stuck at opening levels versus the Euro and US Dollar on comments from former EU trade commissioner Pascal Lamy, who claims the Article 50 process is likely to be overly complicated and 'long, obscure, bumpy and probably nasty'.
Closing Update, 19th Jan; Goldman Sachs has put the brakes on plans to relocate parts of its business to London. The bank blamed the uncertainty caused by the impending Brexit, although it stressed it has not cancelled the move.
Afternoon Update, 19th Jan; Mario Draghi has claimed the recent strong inflation seen in the Eurozone is largely due to oil. He has told reporters at his latest press conference that he wants to see positive second-round effects from price growth, such as higher wages. This is likely a way of deflating hopes that strong inflation would lead to rate hikes; a tactic that has certainly worked. The Euro has weakened in response.
Midday Update, 19th Jan; Theresa May has tried to assure the global elite today that Britain is not set to become isolationist following the Brexit vote. Speaking at the World Economic Forum (WEF) annual meeting in Davos, May claimed;
'The United Kingdom, a country that has so often been at the forefront of economic and social change, will step up to a new leadership role as the strongest and most forceful advocate for business, free markets and free trade anywhere in the world.'
Morning Update, 19th Jan; The news, delivered towards the end of yesterday's trade session, that Tuesday will see the Supreme Court announce their ruling on Article 50 has pushed the Pound back into a recovery today. Investors are hoping that the court is going to rule against the government, meaning Parliament will get a say on the government's negotiating plans, as well as on the final Brexit deal.
Closing Update, 18th Jan; The Pound continues to fall today, although there are signs that GBP could find fresh support next week. The Supreme Court has revealed that its judgement on the government's Article 50 court case will be announced on Tuesday. Should it rule against the government, Pound exchange rates could see significant appreciation.
Afternoon Update, 18th Jan; The reaction of the European Union to Theresa May's Brexit speech has somewhat soured the positivity generated by her announcements yesterday. Indeed, the GBP sell-off has worsened after lead EU negotiator Guy Verhofstadt said the Prime Minister had created an 'illusion' with her claims of retaining free trade access to the EU without being a full member of either the single market or the customs union.
Pound Exchange Rates Weakening on Investor Profit-Taking Following Theresa May Brexit Speech
Profit-taking has weakened Pound exchange rates today, with GBP EUR and GBP USD both slumping as investors cash in on yesterday's gains.
Theresa May sparked a bullish recovery yesterday during her long-awaited Brexit speech, with several of her Brexit aims serving to improve investor sentiment. Chief amongst these was her confirmation that Parliament would get a vote on the final Brexit deal, potentially allowing MPs to curb the 'Hard Brexit' position taken by the government.
May also claimed that she would seek a new form of membership to the EU customs union to enable continued free trade between the UK and the EU, as well as making minimal payments to the EU budget to gain access to certain programmes. This could have been a reference to passporting rights for financial service firms, or specific trade conditions to protect the UK automotive industry.
With investors taking the opportunity to profit, from a much stronger Pound than many had anticipated, GBP EUR is down -0.3% and GBP USD down -0.4%.
Euro Mixed on Eurozone Data; Inflation Rate Estimates Confirmed, Construction Stagnates
Finalised inflation rate figures for the Eurozone and Germany have reprinted in line with earlier estimates. While not new information, this is a relief to investors; it's not unknown for finalised data to be significantly downgraded, which would have poured cold water on hopes that inflationary pressures are building within the currency bloc.
Construction output figures have been less positive. Year-on-year construction output for the Eurozone saw no growth in November, against forecasts of 1.8% after October's 0.9% uptick.
The fact Theresa May is intending to try and preserve trade links with the EU is also supporting the Euro; the UK accounts for around 16% of EU exports, making it the project's largest trading partner. A trade deal is therefore in the interests of EU member states.
US Dollar Rebounds ahead of Consumer Price Index Releases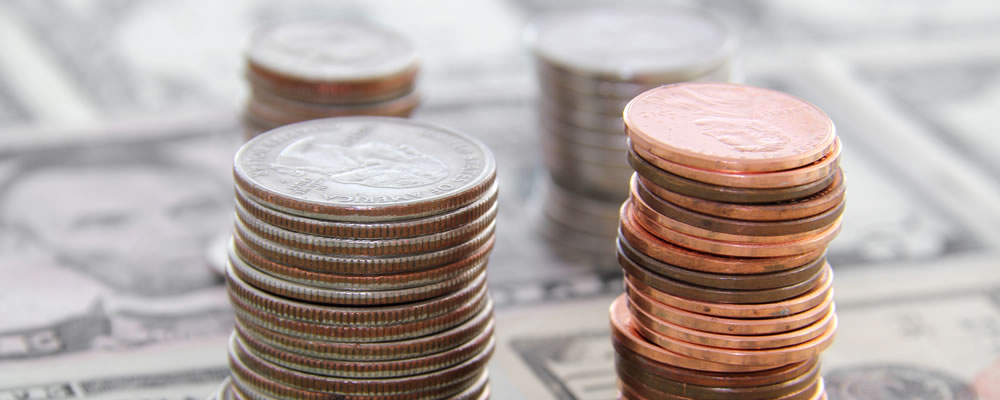 The US Dollar is on the rise again today, continuing to yoyo ahead of Donald Trump's inauguration as US President. Traders have been stuck for new information; Fed hike bets remain high and Trump's plans to stimulate the economy remain possible, but unconfirmed. The US Dollar has therefore lacked direction.
However, today's data slew could finally provide something to move the US Dollar. The consumer price index figures for December are forecast to show accelerating price growth. This is not the measure the Federal Reserve uses when deciding upon inflationary pressures, but it won't harm the overall picture should a rise be recorded.
Investors will want to see that wage growth continues apace, however; rising inflation and stagnant incomes bodes ill for consumer spending.
Pound Exchange Rates Forecast; Will Continuing Investor Sell-Off Weaken GBP EUR, GBP USD Further?
There is nothing on the UK data calendar left today that could prompt a reversal for Pound exchange rates. However, if profit-taking is the main driver of GBP EUR and GBP USD depreciation, losses could slow later in the day as the sell-off runs out of momentum.
With the last of the major Eurozone data for today just released, the Euro is also likely to remain on its current trajectory.
That high-impact US consumer price index – and accompanying medium and low-impact data slew – could cause US Dollar volatility, however.
Interbank Pound Exchange Rates
At the time of writing, Pound Euro exchange rates were trending around 1.15, while Euro Pound exchange rates were trading in the region of 0.86.
Pound US Dollar exchange rates were trending around 1.23, while US Dollar Pound exchange rates were trading in the region of 0.81.