USD Remains Weak after Consumer Confidence Drop
The highly influential University of Michigan Consumer Confidence index has registered a surprise drop in sentiment. The preliminary figure for April was predicted to show a rise to 92 from the previous reading of 91, but instead dropped to 89.7. As a result, the US Dollar remains soft.
US Industrial Production Decline Continues Steady, EUR/USD Extends Gains
US industrial production figures have disappointed forecasts for March, showing that production continued to decline at a rate of -0.6% on the month. Forecasts had been for the decline to slow to -0.1%. The news has seen the EUR/USD exchange rate advance further.
Earlier…
No Greek deal from today's IMF meeting says Eurogroup head
Deal must be reached before debt payments are due in July
Chinese data softens fears of harsh slowdown, USD remains soft
US University of Michigan Confidence Index forecast to rise
Negotiations between Greece's creditors are once again in focus as the International Monetary Fund (IMF) meets in Washington, weakening EUR/USD. Meanwhile, mixed data from China has lessened fears of a 'hard landing', raising investor hopes that the US Federal Reserve may consider hiking interest rates in the near future. The US Dollar (USD) remains in a weak position overall, however, making only small gains on the Euro (EUR).
EUR/USD Exchange Rate Slips on Greek Bailout Complications
The head of Eurozone finance ministers, Jeroen Dijsselbloem, commented today that this week's meeting of the IMF will not yield a deal on the Greek bailout. Although the official suggested talks next week in Amsterdam could see more progress made, he dismissed investor hopes of a resolution over the weekend; 'In Amsterdam we will have more time, everyone around the table and try to really get somewhere.'
The Greek bailout is once again weighing on the Euro, with fears that the Hellenic nation could be forced to leave the Eurozone if a deal isn't agreed between its creditors. The main point of contention over the deals is the size of the Gross Domestic Product surplus Greece is required to reach and maintain by 2018. Eurozone creditors want a surplus of 3.5% by 2018, while the IMF argues that a figure of 1.5% is much more realistic and achievable.
'I don't see any flexibility on the 3.5% in 2018 because it was one of the anchors of the agreement of last summer. So that's going to take a huge effort on the part of Greece but I think it can be done,' Dijsselbloem commented.
Chinese Data Softens Global Uncertainty, USD/EUR Makes Small Gains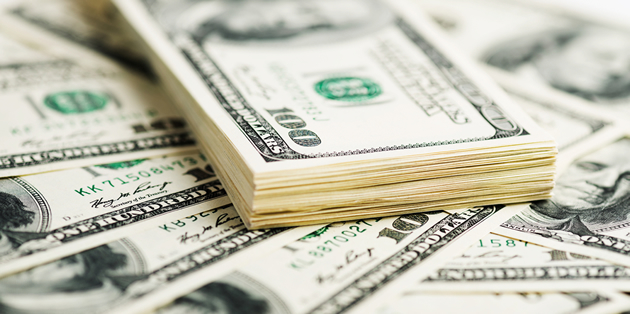 Global uncertainty has abated, if only slightly, following the latest high profile data releases from China. The raft of information struck a mostly positive tone, even if Gross Domestic Product did decline -0.1% to 6.7% as expected. Retail sales saw a small year-on-year (YoY) uptick in March from 10.1% to 10.5%, ten basis points higher than forecast, while industrial production leapt up 1.4% to 6.8%, significantly above the 5.9% rise anticipated.
Figures also showed that new lending fuelled a rise in investment, with the value of new loans nearly doubling to CNY1,370 billion ($211 billion), CNY270 billion ($41 billion) above predictions, while urban investment bettered expectations with a 10.7% increase. Foreign direct investment was over three times higher than the forecast, rising from 1.8% to 7.8%.
The news helped give the US Dollar a minor boost. With the Fed now firmly focussed on developments in China to help steer the direction of US monetary policy, the mostly positive results have raised investor hopes of a rate hike in the near future. However, economists have been quick to point out that the data still reveals worrying signs about the Chinese economy.
According to Tom Rafferty, economist with the Economist Intelligence Unit, 'today's released data ought not to distract from the fact that the structural issues facing China's economy remain unresolved. It has taken considerable monetary and fiscal policy loosening to stabilise economic growth at this level and this effort has distracted from the reform agenda that is fundamental to long-term economic sustainability.'
As a result, caution still reigns, keeping the 'Greenback' weak overall.
EUR/USD Forecast: Will Confidence Data Print Positively after Poor Inflation Result?
Eurozone trade balance figures are due out soon and are expected to show a small uptick in the region's trade surplus. News and speculation regarding today's IMF meeting could also continue to influence Euro sentiment.
The highly influential University of Michigan Confidence index preliminary figures for the US will be released today. Expectations are for a 1 point rise in sentiment to 92. However, inflation is usually a reflection of consumer confidence, as pessimistic consumers tend to save rather than spend, so the latest below-par inflation data from the US could suggest that the index will in fact have dropped in April.
Current EUR, USD Conversion Rates
The Euro to US Dollar (EUR/USD) exchange rate is currently trending between 1.1243 and 1.1271, while the US Dollar to Euro (USD/EUR) exchange rate is trading in the region of 0.7057 and 0.7075.