Pound Sterling (GBP) Dented by Soft Consumer Confidence
The appeal of Pound Sterling (GBP) declined sharply following a lower-than-expected UK GfK Consumer Confidence Survey, which printed at -3 rather than -1 for April. Thus, in spite of worries over the upcoming Eurozone CPI, the Pound Sterling to Euro (GBP/EUR) exchange rate was trending lower, in the region of 1.2849, on Friday morning.
Whether or not the pairing is able to return to the week's highs of 1.29 remains to be seen.
Earlier…
Weak German Inflation Shored up GBP/EUR Exchange Rate
April's German Consumer Price Index showed a dip in domestic inflationary pressure, falling back from 0.3% to 0.1% as markets had anticipated. This weaker showing prompted diminished the appeal of the single currency, prompting the Pound Sterling to Euro (GBP/EUR) exchange rate to trend higher in the region of 1.2875 on Thursday afternoon.
Earlier…
Pound dented after UK GDP slowed on the quarter at start of 2016
Stronger German employment data failed to boost Euro demand
Greek debt worries mount once again
GBP/EUR forecast to strengthen on lower German inflation
Bullish Pound Sterling (GBP) Run Ended by Softer UK GDP
There was something of a mixed reaction to the UK's first quarter GDP figures on Wednesday, as the outlook of the domestic economy remained less-than-encouraging. Economic growth slowed from 0.6% to 0.4% on the quarter as market uncertainty weighed heavily on domestic confidence. However, GDP was also found to have held steady at 2.1% on an annual basis, suggesting that the slowdown had not been quite as pronounced as investors had feared. As a result the Pound Sterling to Euro (GBP/EUR) exchange rate remained supported throughout the morning, before sentiment weakened more substantially in the afternoon.
An unexpected strengthening in the GfK German Consumer Confidence Survey failed to especially boost the Euro (EUR). Although sentiment in the Eurozone's powerhouse economy ticked higher from 9.4 to 9.7 for May, this was somewhat overshadowed by the latest developments in the ongoing Greek bailout saga.
Weaker German Employment Boosted Pound Sterling to Euro Exchange Rate
Confidence in the single currency did not improve despite the German Unemployment Change report showing a decrease of -16,000 in joblessness. This was not substantial enough to impact the country's Unemployment Rate, however, which head steady at 6.2%.
Despite a sharper decline in Nationwide House Prices than markets had anticipated, the Pound (GBP) recovered some of its recent bullishness on Thursday. While a group of eight economists lent their support to the 'Leave' campaign, the mood towards the upcoming referendum remained less concerned than in previous weeks. Optimism is still high that the UK will not vote to leave the European Union, prompting investors to continue buying into the softened currency.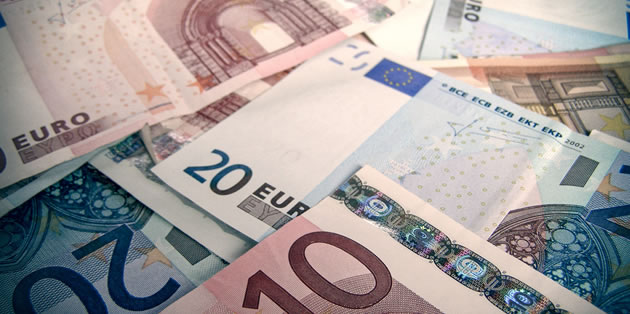 GBP/EUR Exchange Rate Forecast: German CPI, Greek Worries to Drag on Euro
Later this afternoon the common currency could experience further downside pressure if the German Consumer Price Index is confirmed to have slowed in April. Given the European Central Bank's (ECB) concerted efforts to bolster inflation within the Eurozone, a weaker showing here is likely to increase the odds of further monetary loosening. Forecasts anticipate a dip in inflationary pressure from 0.3% to 0.1%, which would bode ill for the overall Eurozone measure due for release on Friday.
With the UK GfK Consumer Confidence Survey expected to show a decline Sterling could return to the back foot ahead of the weekend. Nevertheless, if markets maintain their recent attitude that the Pound has been largely oversold on the back of 'Brexit' fears then the GBP/EUR exchange rate could make further gains.
Developments with regards to the future of the Greek bailout review may also weigh heavily on the single currency in coming days, as efforts to broker a successful negotiation between the Hellenic nation and its creditors remain in the balance. Tensions are likely to continue to build after European Council President Donald Tusk rejected a call for an emergency EU leaders' summit, commenting:
'I am convinced that there is still work to be done by the ministers of finance who have to avoid a situation of renewed uncertainty for Greece.'
Current GBP, EUR Exchange Rates
At the time of writing, the Pound Sterling to Euro (GBP/EUR) exchange rate was trending higher around 1.2858, while the Euro to Pound Sterling (EUR/GBP) pairing was slumped in the region of 0.7776.