A run of positive UK data on Friday gave the Pound Euro (GBP EUR) exchange rate enough impetus to rack up bullish gains.
GBP advances on service sector growth – Consumer confidence also recovers
EUR continues to weaken on banking fears – Deutsche Bank shares remain at 1973 lows
Inflationary pressure builds in Eurozone – CPI growth rate doubles to fastest pace in two years
GBP EUR exchange rate forecast – UK Markit manufacturing PMI forecast to weaken
The Euro remained weak, despite welcome signs of building inflationary pressures, thanks to market concerns over Deutsche Bank.
Pound Slide Continues after May Confirms March 2017 Article 50 Trigger
12.55, 04/10/2016: The construction PMI did indeed beat expectations (see below), posting a strong growth score of 52.3. However, this has not been enough to slow the Pound's decline. GBP EUR exchange rates have come within a whisker of falling into the 1.13s this session.
08.45, 04/10/2016: The Pound is stuck at a three-year low today after markets reacted dovishly to the weekend's news regarding the official beginning of Brexit. Although the September construction PMI could better forecasts and rise out of contraction territory – as yesterday's manufacturing PMI did when it rose against expectations – this may not be enough to overpower fears surrounding the UK's impending split from the EU.
12.40, 03/10/2016: The Pound has fallen to a more-than three-year low versus the Euro today in reaction to comments made over the weekend by UK Prime Minister Theresa May. Speaking at the Tory party conference, May stated that Article 50 would be triggered by the end of March 2017 at the latest. Her comments also suggested the PM is favouring a 'hard' Brexit option, prioritising controlling immigration over single market access. Many Tory backbenchers have expressed their discontent at the idea of the PM pursuing a 'hard' Brexit agenda and are expected to campaign for May to protect single market access.
15.20, 03/10/2016: A better-than-anticipated result from the latest UK manufacturing PMI, which unexpectedly climbed higher into growth territory instead of weakening as forecast, has failed to make a positive impact upon the Pound, with markets still more concerned by the morning's news. The GBP EUR exchange rate is currently trending around 1.1438.
Slew of Positive Post-Referendum UK Data Boosts Pound Euro Exchange Rate
GBP/EUR was able to stage a rebound on Friday after the release of consumer confidence data. The latest GfK report showed that sentiment had climbed back to pre-referendum levels, rising from -7 to -1; a significant improvement upon the forecast score of -5. The Lloyds business barometer also advanced, rising from 16 to 24.
Later, finalised second quarter GDP figures proved mixed, with a 0.1% upwards revision to quarterly growth countered by a -0.1% cut to previous estimates of annual expansion. However, other data printed positively, keeping the Pound buoyant. House price growth did not slow as much as thought, according to Nationwide. The current account deficit widened, but only by around half of the expected -£3.6 billion expansion to -£30.6 billion forecast.
The index of services figures surprised to the upside, growing 0.4% on the month instead of slowing from 0.2% to 0.1%. The three months to June saw the UK's most important sector expand 0.6%, instead of slowing from 0.5% growth to 0.3%.
Office for National Statistics (ONS) Head of GDP, Darren Morgan, explained;
'Despite some very weak indicators appearing in the immediate aftermath of the referendum, estimates gathered by ONS from more than 23,000 firms now suggest that the services sector – which accounts for three quarters of the economy – in fact grew strongly in July.'
Chancellor Philip Hammond was also pleased with the data, commenting;
'We want to build on this strength as we forge a new relationship with the EU and deliver an economy that works for all. The UK is well-positioned to deal with the challenges, and take advantage of the opportunities, that lie ahead.'
Deutsche Bank Fears Overshadow Eurozone Inflation Growth; Euro Weakens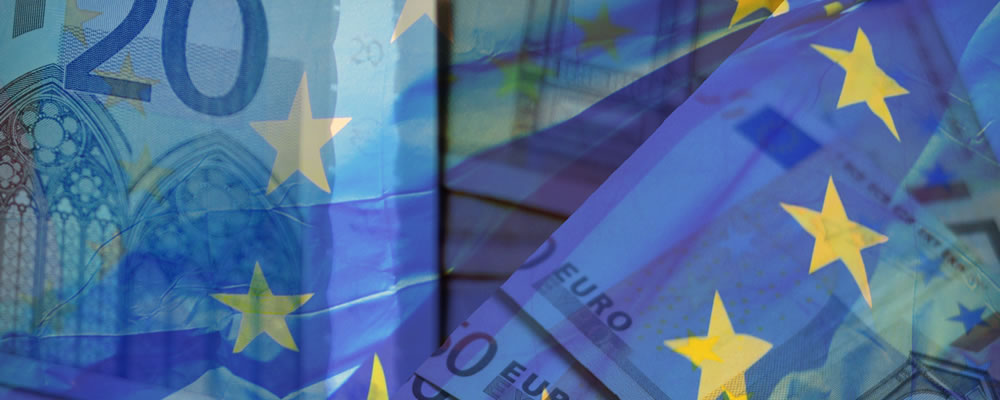 While Friday's Eurozone data was mixed overall, some strong positives shone through. German retail sales declined on the month in August at a faster-than-expected pace, but grew by more-than double the rate forecast on an annualised basis.
While Eurozone unemployment failed to edge lower to 10% as predicted, the current level of 10.1% still represents the lowest rate of joblessness in five years.
Meanwhile, the latest consumer price indices showed that the overall pace of inflation doubled in September as forecast, rising from 0.2% to 0.4%; the fastest pace in two years. However, the core index – which measures price growth without volatile distorting categories such as food and energy included – remained at 0.8% rather than inching up to 0.9%.
Regardless, the growth in the non-core index will be a major relief to the European Central Bank (ECB) whose chief Mario Draghi recently commented that policymakers were running out of room regarding traditional stimulus measures. However, the news failed to boost Euro exchange rates. The continuing market speculation regarding the fate of Deutsche Bank continued to weigh on the common currency, overriding the positive impact of strong inflationary pressures; something investors have been waiting to see for some time now.
Speaking on Friday, Financial Analyst Connor Campbell explained;
'After a couple of days of relief the markets are back in the red, with Deutsche Bank continuing to position itself as the number one worry for investors. A Bloomberg report yesterday evening claiming that 10 hedge funds had reduced their exposure to the German financial firm has sparked the latest round of heavy losses, with Deutsche Bank dropping between -9% after the bell. That drop has seen the bank dip below €10, effectively its worst price in 30 years.'
As a result the Euro Pound (EUR GBP) exchange rate slumped -0.5%.
Pound Euro (GBP EUR) Exchange Rate Forecast; Manufacturing PMI to Drive Sterling Movement
The latest Markit manufacturing PMI for the UK is due out tomorrow. Forecasts are for the index to weaken back from 53.3 to 52.1. While this suggests growth pressures are easing, markets may interpret this as merely part of a slowing pendulum effect after the sector's strong rebound following a post-referendum slump.
The Eurozone also sees the release of several Markit PMIs, although given that the measures for France, Germany and the Eurozone as a whole are all finalised measures, these are unlikely to generate many Euro surprises. Banking fears are more likely to control currency movements than the day's low impact data.
Pound Euro (GBP EUR) Conversion Rates
The Pound Euro (GBP EUR) exchange rate was trending between 1.1541 and 1.1622 during Friday's European session. The Euro Pound (EUR GBP) exchange rate traded between 0.8603 and 0.8662.