BREAKING: BoE cuts interest rates and expands QE – Historic 322-year low for UK borrowing costs
Record GBP short positions – Markets overwhelmingly betting on BoE rate cut
Euro Pound exchange rate weakens – Positive Eurozone PMIs undermined by weaker retail sales
Pound strong despite UK PMIs – Data reinforces calls for UK interest rate cut
Moody's warns of UK commercial property weakness – London property to be hardest-hit post-Brexit
EUR GBP forecast – BoE rate cut could boost Euro Pound exchange rate
(08.58, 05/08/16) The Euro Pound exchange rate has started today's session trading at a more-than three week high, following yesterday's historic Bank of England decision which took interest rates to fresh low and reintroduced quantitative easing, amongst other things. However, the Pound could be set to recover thanks to the large number of short positions currently held by the markets. Poor German factory orders data for June will also help GBP advance due to its dragging effect on the Euro. Orders fell by -3.1% on the year in June, over double the forecast pace of decline and a strong acceleration from the previous -0.2% drop. Monthly orders declined -0.4% rather than growing 0.5%, with the previous month's figure revised lower to show growth of just 0.1%.
Previously…
An interest rate cut from the Bank of England today is a 'foregone conclusion' according to Markit, yet yesterday's Euro Pound exchange rate slumped.
Pound Dives as Bank of England Unleashes Post-Brexit Monetary Stimulus
The Bank of England has cut interest rates to 0.25% as expected, but markets have reacted strongly to the other stimulus measures enacted at the latest Monetary Policy Committee (MPC) meeting. Along with the rate cut is a £60 billion increase in the dormant quantitative easing programme, taking the Asset Purchase Target to £435 billion, as well as making plans for £10 billion in corporate bond purchases and launching a new £100 billion scheme to encourage banks to lend to consumers.
There could be some controversy on the horizon as Barclays and Santander have already announced that they will pass on the savings from an interest rate cut to the consumer, but RBS and Lloyds have not yet indicated that they will follow suit, despite strongly-worded comments from Mark Carney that banks must do so.
Euro Pound (EUR GBP) exchange rates have shot up 1.3% to 0.8472 since the announcement.
Record Pound Short Positions as Markets Bet on BoE Interest Rate Cut
Net short positions on the Pound have hit a record low of -80%. This means that the majority of Pound trading recently has been from investors selling borrowed GBP in the hopes that it will weaken following an interest rate cut and they can buy it back at a lower price than they sold it for, returning the funds in full while making a profit.
Euro Exchange Rates Weaken on Mixed Eurozone Data
Finalised Eurozone PMIs yesterday largely confirmed the idea that the currency bloc had managed to escape largely unscathed by the UK's decision to leave the European Union. While the UK indices crashed deep into contraction territory, Eurozone indicators largely strengthened. The Italian composite, German services and German composite were the only indicators not to strengthen above-forecasts; the latter held steady as predicted, while the others weakened by more-than-expected.
Retail sales figures released later during the day painted a less positive picture and undid some of the hopes of building inflationary pressures stoked earlier in the week by improved producer price index figures. Sales stagnated month-on-month in June, while year-on-year sales growth stayed at 1.6% instead of accelerating to 1.8% as predicted. This sign of below-expectations consumer activity once again highlighted the weak state of inflation in the Eurozone, keeping the pressure on the European Central Bank to provide some form of additional monetary stimulus.
Co-Founder of Pelican, an app-based trading network, Mike Read stated;
'With high levels of uncertainty engulfing the Eurozone in the run up to the UK's vote on EU membership, it isn't too surprising that consumers held their wallets firmly in June. However, ECB President Mario Draghi will be well aware that higher oil prices left shoppers with less money in their pockets to spend in June, which may have weighed heavier on the minds of consumers than the outcome of the UK's historic vote.'
Pound (GBP) Advances versus Euro as Services PMI Avoids Further Post-Brexit Revision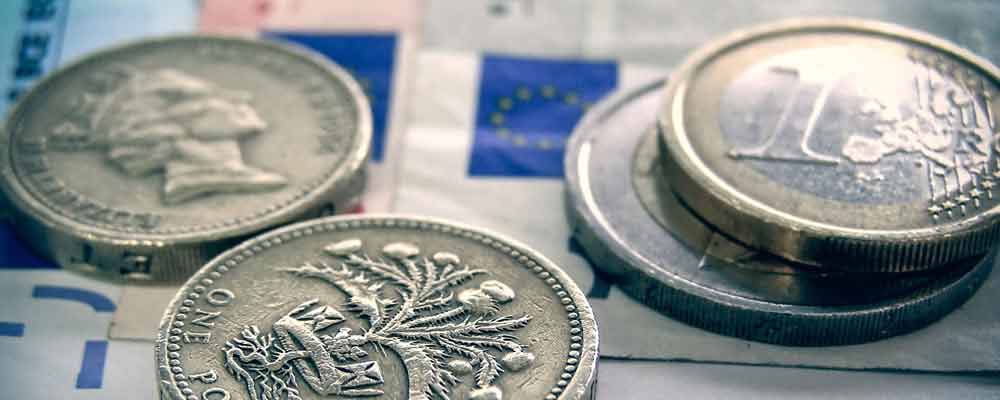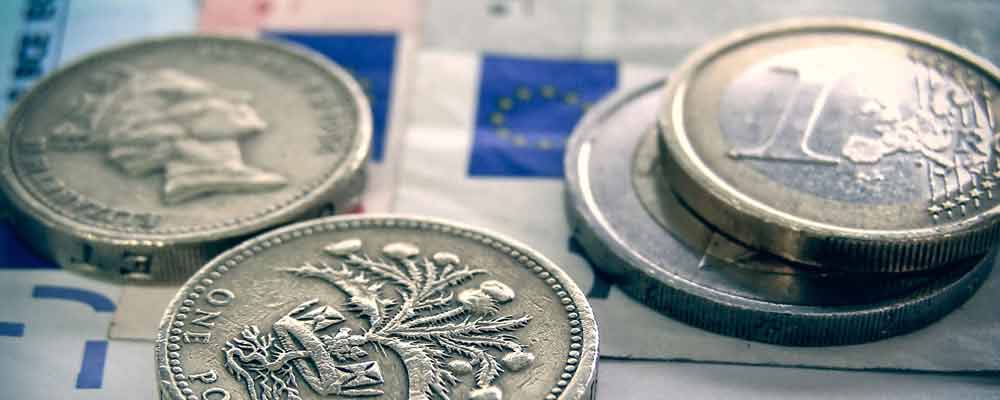 After the flash estimates of the first UK PMIs since the Brexit referendum showed a larger-than-expected contraction in the services and composite indices, investors were concerned yesterday's finalised versions would see an even worse figure. However, services managed to escape further weakness, holding steady at 47.4. The composite index was revised lower, however, dropping from 47.7 to 47.5.
Markets were relieved that there was no further reduction to the key UK services index, although the figures ultimately revealed that the economy was in a poor state as a result of Brexit-related shocks. According to Markit's Chris Williamson, this has almost set in stone the course of action the Bank of England (BoE) must take at today's policy meeting;
'The unprecedented month-on-month drop in the all-sector index has undoubtedly increased the chances of the UK sliding into at least a mild recession. A quarter-point cut in interest rates therefore seems to be a foregone conclusion, though the extent and nature of other non-standard stimulus measures remains a far greater source of uncertainty.'
In other pessimistic Brexit news, ratings agency Moody's warned that the UK's split from the EU could cause commercial property prices to drop as much as -10%. London's office market would be the worst hit, due to it being the largest centre of professional service firms and financial companies in the UK. The agency claimed;
'If London were to lose its "safe haven" status with foreign investors, it is likely that transaction volumes as well as property values would fall. Over the last two years, foreign direct investment has accounted for over two-thirds of all commercial real estate transactions in central London, with the remainder outside the city [according to CBRE data].'
Nevertheless, the Pound Euro (GBP EUR) exchange rate trended positively yesterday.
Euro Pound (EUR GBP) Exchange Rate Forecast; Bank of England Policy Meeting to Dominate Market Focus
The Eurozone will release further Markit PMIs today, including retail indices for Germany, France, Italy and the currency bloc as a whole. However, far more influential for the EUR GBP pairing will be the Bank of England's (BoE) latest monetary policy meeting. Like Chris Williamson, markets are as-good-as convinced that the BoE will cut interest rates, while some have suggested the bank could also resume asset purchases.
EUR, GBP Conversion Rates
The Euro Pound (EUR GBP) exchange rate was trending in the region of 0.8384, while the Pound Euro (GBP EUR) exchange rate traded around 1.1928, towards the close of yesterday's European session.